around the WORLD by motorcycle_AFRICA_LATIN AMERICA_adventure travel
Introduction - english

DEUTSCH

FRANÇAIS

ESPAÑOL

Here you will find a description of the longest motorcycle journeys/adventure trips
that I have taken around the world. Selected photos will give you a first, short
impression. For those who are interested, I would like to present you my videos.
I hope you will enjoy it:
DVD_Around the WORLD by motorcycle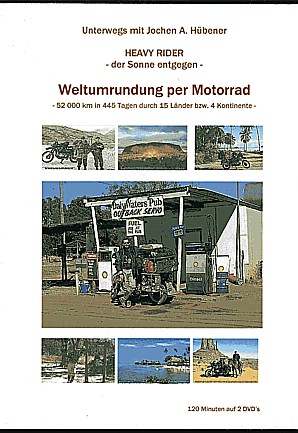 VHS AFRIKA - per Motorrad, Unimog und Rucksack

The «links» will guide you to other delightful «homepages» or «websites».
My «website» is dynamic: your experiences, your sent photos, short stories
and brief accounts may eventually be shown here. For that reason, I must have
«e-mail», especially with adventure information and/or photos.
Letters should be sent to:


Jochen A. Hübener, Berlin, GERMANY
Now, have fun!


MAIN SUBJECTS - Haupt-Themen HOME